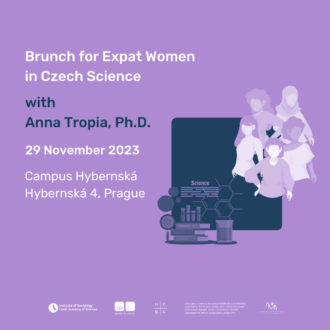 Brunch for Expat Women in Czech Science with Anna Tropia
---
29 November 2023, from 9:30 a.m. to 12:30 p.m.
Campus Hybernská, Hybernská 4, Prague
Registration here
We would like to invite you to our Brunch for Expat Women in Czech Science, which we decided to organize in cooperation with Hyb4City. Our invitation was accepted by Anna Tropia Ph.D., Assistant Professor at the Department of Philosophy and Religious Sciences, Charles University, Prague.
We aimed to select an inspiring person who has managed to develop a successful career path, during which she has had to face challenges and overcome many obstacles associated, among others, with being a woman scientist who has chosen to pursue her scientific career abroad. She can thus be a role model for her colleagues who are at the very beginning of their own careers as international women scientists in the Czech Republic.
To guarantee a safe space, the event will not be open to the public and will not be audio-visually recorded.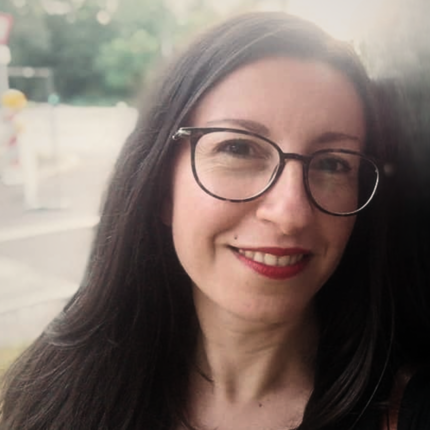 Anna Tropia, Ph.D. is an Assistant Professor at the Department of Philosophy and Religious Studies, Faculty of Arts, Charles University. In her research, she focuses on the History of Early-Modern Philosophy, Jesuit Aristotelianism, the history and tradition of the Aristotelian treatise On the Soul, the theory of Cognition, and the history of academical philosophical teaching (16th-17th centuries).
Anna studied philosophy at the University of Pisa, and have been awarded a Ph.D. in history of philosophy at the University of Macerata under the supervision of a leading historian in the field, Emanuela Scribano (Venice). Her dissertation brought on the theory of cognition of the Spanish Jesuit Francisco Suárez (16th century), in particular, on its medieval roots. Anna experienced of predoc and postdoc grants in Madrid (Casa de Velazquez), Paris (Centre Pierre Abélard), Berlin (Alexander Von Humboldt Postdoc grant), Gotha (Herzog Ernst fellowships). She joined the Department of Philosophy and Religious Studies at Charles University in 2018.
In 2021 she received the International Prize "Thomas Ricklin" for the work of the edition of the De origine, natura et immortalitate animae by Juan Maldonado (1564).
This event has been funded by the project CZERA (ID Code MS2103) supported by the Ministry of Education, Youth and Sports of the Czech Republic as part of the INTER-INFORM subprogramme, INTER-EXCELLENCE program.