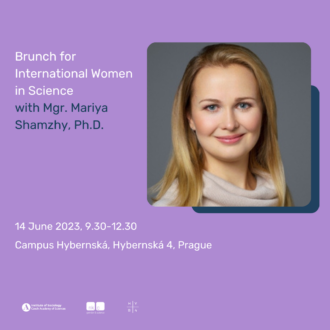 Brunch for International Women in Czech Science with Mariya Shamzhy
---
14 June 2023, from 9:30 a.m. to 12:30 p.m.
Campus Hybernská, Hybernská 4, Prague
Registration required: https://bit.ly/3pqJzlD
We would like to invite you to our very first Brunch for International Women in Science, which we decided to organize in cooperation with Hyb4City. Our invitation was accepted by Mgr. Mariya Shamzhy, Ph.D., winner of the Neuron 2022 Award for promising scientists, who will be a guest speaker at this event.
We aimed to select an inspiring person who has managed to develop a successful career path, during which she has had to face challenges and overcome many obstacles associated, among others, with being a woman scientist who has chosen to pursue her scientific career abroad. She can thus be a role model for her colleagues who are at the very beginning of their own careers as international women scientists in the Czech Republic.
The Brunch features a presentation by Mariya Shamzhy, followed by a Q&A session, and finally concludes with refreshments and networking.
To guarantee a safe space, the event will not be open to the public and will not be audio-visually recorded.
This event has been funded by the project CZERA (ID Code MS2103) supported by the Ministry of Education, Youth and Sports of the Czech Republic as part of the INTER-INFORM subprogramme, INTER-EXCELLENCE program.