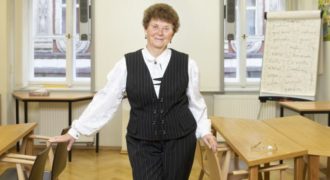 Milada Paulová Award Winner: Marie Čechová
---
On 27 November 2019, Professor Marie Čechová, emeritus professor at the University of J. E. Purkyně in Ústí nad Labem, received the 2019 Milada Paulová Award, awarded by the Ministry of Education, Youth and Sports in cooperation with the Centre for Gender and Science.
The Milada Paulová Award is given annually in recognition of research achievements and contribution to advancement of science. This year it was given in the field of linguistics.
"When I started my professional work in the early 1970s, whatever the team, the editorial board, the textbook team and others, I was always the only woman in it. This has completely changed over the last fifty years," says professor Marie Čechová. During her professional career she lectured mainly on language culture, morphology, stylistics and didactics of Czech language, and also held phraseological or stylistic seminars. Her pedagogical activity has always been accompanied by her own professional scientific activity. As a team leader, she has co-created fundamental Bohemistic scholarly works of permanent value.
Milada Paulová Award is bearing the name of a woman who became the first professor in the Czech Republic and is intended for important scientific personalities for their contribution to the development of the field, including pedagogical activities, leading diploma and doctoral theses, but also for cooperation with civic organizations or industry. Each year, the award is presented in a different field – this year 13 female scientists were nominated.