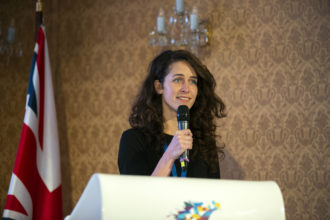 Women In Science Conference
---
On 5 March 2019 the inspirational all-day conference Women In Science took place in the premises of the Liechtenstein Palace in Prague. The event was organised by the British Embassy Prague in cooperation with the Academy of Sciences of the Czech Republic.
Among the speakers were Baroness Greenfield,  Professor of Physiology at Oxford University; Dame Ottoline Leyser, Professor of Biology at Cambridge University, and Sainsbury Laboratory Director at Cambridge; Jessica Wade, Physicist at Imperial College London and Dame Jocelyn Bell Burnell,  Astrophysicist and discoverer of pulsars.
The Centre for Gender and Science was represented by its head Marcela Linková, who discussed advances achieved as well as the continued gaps in GE in Research and innovation among European countries.