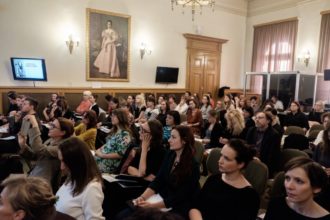 Main Findings from Qualitative Research
---
The qualitative study focused on a more detailed analysis of the conditions of scientific work and the manifestations of gender culture in Czech academia. The research was conducted at four institutions – two HE institutions and two public research organisations. The sample included institutions in the humanities, social sciences, natural sciences and engineering, and small, medium and large-sized institutions.
We carried out 40 semi-structured interviews with academics and researchers at these four institutions. The interviews focused on topic of professional career, the conditions for research and teaching, professional and career development, research assessment systems, gender equality, the position of men and women in research in general and in the given field and workplace in particular, parenthood and work-life balance. The interviews with individuals in managerial positions included topics such as the transformation of the academic and research environment in the CR, changes in professional careers and their gender dimension, access to evaluation of scientific work and HR policies, and support for gender equality.
The qualitative study showed that, regardless of the type of institution, researchers face similar problems in three main thematic areas. The first concerns the neo-liberalisation of Czech research associated, in particular, with changes in research funding and evaluation over the last decade.
The second theme is lack of transparency of rules in research organisations that affects the impact of the neo-liberal reforms on individuals.
The third area entails primarily the causes for the on-going gender inequality in Czech research. Research participants across fields and types of institutions felt strongly about the current changes in the design and funding of Czech research. While they appreciated the possibilities offered by mobility and inclusion in the global research community, they felt that they were expected to provide "world-class" results in financial and physical conditions that they often considered inadequate. The impact of these processes (particularly those concerning the changes in research funding) on individuals is, to a large degree, age-dependant. Younger researchers express stronger negative feelings about these processes.
One of the largest problems is the low proportion of institutional funding. This makes it difficult or even impossible to secure stable jobs, since the number of jobs paid from institutional sources, as opposed to the number of jobs linked to grant projects, is not increasing. This situation elicits tensions between generations because young researchers often resent the fact that the conditions for the launch and development of their careers differs starkly from those of their senior colleagues and those in decision-making positions, and these conditions define the environment where the early-stage researchers seek to build their careers.
The qualitative study shows that the current research funding arrangements tend to pull the researchers' attention away from their research work. In a situation where grant funding frequently accounts for a significant part of their salary, they must spend a considerable portion of their time engaging in activities related to grant application and administration. As a result they have insufficient time for research and teaching.
Absence of written rules
At all institutions where our research was carried out there was absence of written rules related to the  evaluation and remuneration of research work, career progression, securing jobs paid from institutional resources and permanent contracts, and taking a parental leave and returning to work. This absence of rules adds to the already intense job insecurity, which has negative impact on the motivation and well-being of academics. The result is they do not have trust in fair assessment and, consequently, fair remuneration, and do not see a chance of getting a more stable job position.
The interviews also revealed that this non-existence of rules is one of the manifestations of an absence of a comprehensive vision for human resources development policy at the level of institutional management. The managers interviewed indicated personal preferences as regards academic staff and their ideas of an ideal academic career. There was no mention of any clear objectives for human resources policies and ways of achieving them. One of the reasons may be the managers' workload related to funding administration, which put HR policy making on a back burner. Another reason appears to be uncertainty or outright blindness as regards possibilities for personal initiative in HR management. The responsibility for professional staff development and training and for work-life balance is commonly delegated to individuals or to lower organisational levels.
Inactivity perceived as support
The study showed that researchers do not have gender-stereotyped views of the different intellectual capacity of women and men. Individuals in managerial positions are also aware of the impact of parenthood on female researchers in particular, and, in many cases, seek to actively deal with the issue. However, they are far less pro-active as concerns latent gender differences and inequalities of a systemic nature.
A major setback in eliminating gender inequalities at Czech research institutions is the general absence of reflection on the masculine set-up of the academic environment. The failure to take into account differences in the biographies of women and men that relate to their different duties and opportunities in family life and partnership is one of the manifestations of this. The masculine nature of the work environment is manifested, in particular, in the culture of overtime, the conditions for long-term mobility abroad and uninterrupted publication performance, the virtual incompatibility of a scientific career and active parenthood, or the low representation of women in management.
The inability or unwillingness to reflect on the masculine organization of research institutions results in a negative attitude towards redressing these inequalities. Respondents' answers implicitly suggest that not preventing women from studying and pursuing research careers means the same as supporting their research careers. In other words, inactivity is perceived as support.
This view is probably associated with yet another widespread idea that active support for equal opportunities means unfair favouring of women over men and disparaging men. This is related to another belief that, at the institutions under review, women face no disadvantages compared to men as regards research careers and career development opportunities. The failure to see gender differences in pursuing academic careers was often equalled with their non-existence and used as a proof of gender equality.
Reed about results of the survey carried out under same research project as well.